Xinyi Glass Announces 2022 Annual Results
Flexibly Deploys Domestic and Overseas Production Capacities to Address Increasing Demand
Deepens Product Differentiation
Maintains Competitive Advantagein Market
* * *
Upholds High Dividend Payout Ratio of
HK22.0 Cents per Share for the Year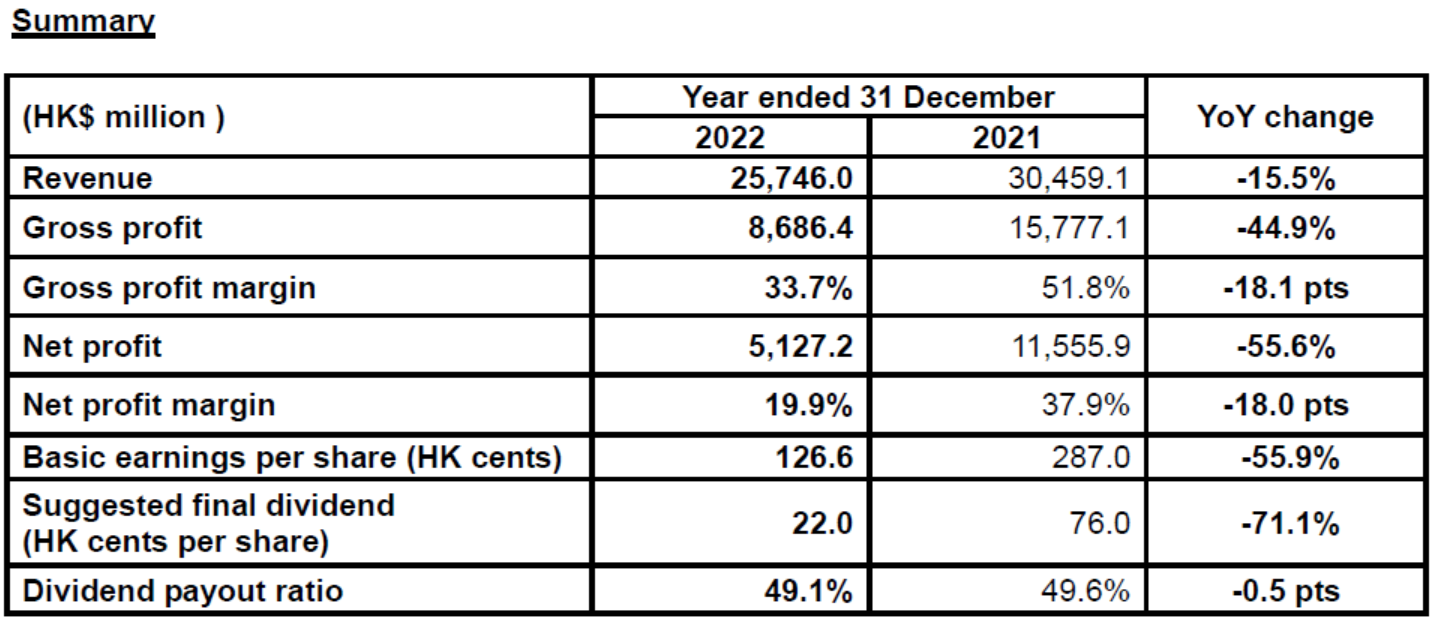 (Hong Kong, 27 February 2023) – Xinyi Glass Holdings Limited ("Xinyi Glass" or the "Group") (stock code: 00868), a leading integrated automobile glass, energy-saving architectural glass and high-quality float glass manufacturer, today announced its annual results for the year ended 31 December 2022 ("FY 2022").
Duringthe year under review, the Group persevered and forged aheaddespite the macroeconomic environment and policies that impactedthe industry. Its revenue was HK$25,746.0 million (2021: HK$30,459.1 million). Gross profit was HK$8,686.4 million (2021: HK$15,777.1 million), a decrease of 44.9% year-on-year, with gross profit margin at33.7% (2021: 51.8%). The Group's profit was squeezed by loweraverage selling prices of float glass due toweaker demand fromthe construction industry inChina,as well ashigher raw material costs. Net profit of the Group declinedby55.6% to HK$5,127.2million (2021: HK$11,555.9 million), net profit margin fell by 18.0percentage points to 19.9% (2021:37.9%). Basic earnings per share were HK126.6cents (2021: HK287.0 cents).
The Group's financial status remainsstrong. As at 31 December 2022, the Group had cash on hand of HK$8,167.3million (31 December 2021: HK$10,295.1 million). The Board of Directors recommendedpayment of a final dividend of HK22.0cents per sharein subject to the approval by Annual General Meeting on 2 June 2023. Together with an interim dividend of HK40.0 cents already paid,total dividend for the year amountedto HK62.0cents, representing a dividend payout ratio of 49.1%.
Dr. LEE Yin Yee, BBS, Chairman of Xinyi Glass, said, "Global economic growth continued to slow down lastyear due to the impact ofthe pandemic and geopolitical tensions. Inflation and supply chain disruption caused by COVID-19 also pushedup energy and raw material costs, adding uncertaintyto industry development. Untilrecently, the Chinese government hadlaunched various policies to support the development of the propertyindustry. And giventhatthe epidemic situation has beenbroughtunder control, the country has also acceleratedthe relaxation of related prevention measures, all of which is expected to stimulate demand to a certain extent. We will seize the resume normalcydevelopment opportunities and continue to expandourbusinesspresence, striving to bring sustainable returns to shareholders."
Business Review
Float glass
During the period under review, the lower-than-expected property completionsand repairs dragged down demand for float glass. Revenue fromfloat glass decreased by 24.3% to HK$16,587.8 million, accounting for 64.4% of overall revenue. Gross profit totaled HK$4,422.1 million, withagross profit margin of 26.7%. Demand for float glass is expected to rebound when the real estate market warms upthis year, and thereforethe Group remains cautiously optimistic about the long-term development of the business.
Automobileglass
With the liftingof pandemic prevention measures overseas, bottlenecksin theglobal supply chain haveeased gradually. The Group's automobile glass business maintained good growth momentum, withrevenue up11.4% to HK$6,081.3 million and gross profit up18.9% to HK$3,057.6 million, with agross profit margin of 50.3%.The first phase of the Group's automobileglass production line in Malaysia has commencedoperation, and with the gradual release of production capacity, the Groupcan deployitssales strategies more flexibly and effectively, and mitigate the risks arisingfrom the additional tariffsimposed.
Architectural glass
The Group's architectural glass business recorded a slightyear-on-year decrease of0.6% in revenue to HK$3,076.9 million, anda declineof15.6%in gross profitto HK$1,206.7 million, with a gross profit margin of 39.2%, due to the impact of the adverse conditions in the property industry.As the anti-epidemic measures wereloosened, the economy has steadily returned to normal with the supportive measures given to the property industry by governmentandthis hasdriventhe recovery of construction activities. In addition, there is funding support for"ensuring timely deliveriesof pre-sold property", which will provide policy support to the industry demand. Benefiting fromthegreen and environmental protection trend in China, more construction projects have adopted energy-efficient, sound-proof and high-value-added architectural glass, stimulatingthe demand for single insulating, double insulating (triple layers) and laminated insulating (triple layers) glass products. Hence, there is room for growth in theperformance of the architectural glass business.
Geographic Market Analysis
During the year under review, the Greater China region remained the Group's main market. Revenue from Greater Chinaamounted to HK$17,567.0 million, a year-on-year decrease of 25.9%,accountingfor 68.2% of the Group's total revenue. Regarding overseas markets, revenue from North America, Europe and other regions recorded satisfactory growth, with overall revenue of HK$8,179.0 million. In total, overseas markets accounted for 31.8% of the Group's total revenue.
Prospects
With the stabilization ofthesupply chain, overseas freightcosts have gradually decreased, which has eased the cost pressure to a certain extent. In addition, the market expects the demand for float glass to pick up and inventoriesmay befurtherreduced. The overall market sentiment and supply/demandbalanceareexpected to improve. Looking ahead, the Group will enrich its productportfolio, increase the proportion of high-value-added products, and optimize business strategies to further consolidate the Group's leading position in the industry. As forproduction capacity, the Group will maintain the production capacity ofitsstrategically located industrial complexes in the country to maintain flexibility and competitiveness in production planning. It will also actively expand overseas production in an orderly manner, diversify its market layout, enhance its risk resistance and create new profit drivers.

In addition, the Group will continue to explore more diversified green financing channels. During the year under review, it secured its first RMB1,350.0million syndicated sustainability-linked loan. In the future, the Group will continue to uphold itsmission of "Leading a Green New Life", and combineits financial strengths tocharta clearerpracticalcourse for environmental protection and sustainable developmentin order to help the country achieve the goal of "Carbon Neutrality".
Dr. LEE concluded,"As theold saying goes, 'The green pine still stands tall when the snow is heavy'. With its increasedresilience to adversity, the Grouphas beenunited formore than 35yearsand continues to grow steadilywithout fear of the fluctuations and challenges in the external environment. In the future, I look forward to standingwith the Xinyi family to drivebusiness growthandachieve long-term development, andtoreward our shareholders and society for their support over the years."