Xinyi Glass Again Attains Recognition of
Authoritative US Magazine –
Institutional Investor's 2021 Ranking
* * * *
Ranks First in "Best IR Program" and "Best ESG" for The Second Consecutive Year
(30 June 2021, Hong Kong) – Xinyi Glass Holdings Limited ("Xinyi Glass" or the "Group") (stock code: 00868.hk), a leading integrated automobile glass, energy-saving architectural glass and high-quality float glass manufacturer, is pleased to announce its selection by Institutional Investor as the "Most Honored Company", and that it ranked first in the "Best IR Program" and "Best ESG" categories for the second consecutive year, in the "2021 All Asia Executive Team Honored Companies Survey" organized by the magazine, an authoritative periodical for institutional investors published in the US. These accolades demonstrate again investors' recognition of the Group's excellence in corporate governance and its solid professional investor relations.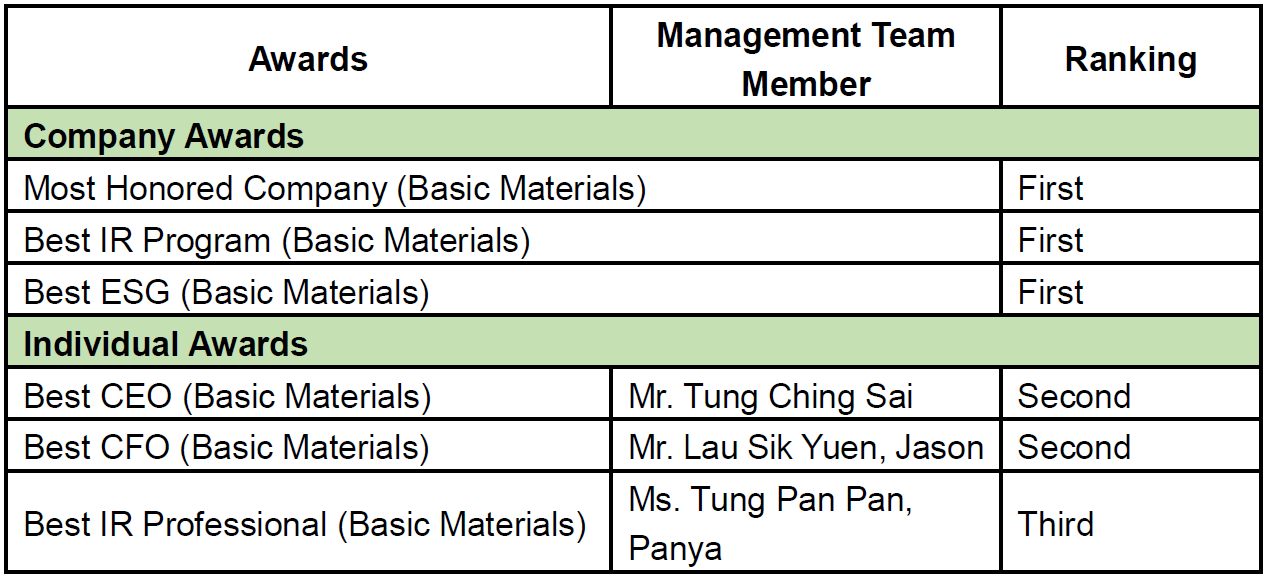 Dr. LEE Yin Yee, B.B.S., Chairman of Xinyi Glass, said, "This year marked the fourth consecutive year for Xinyi Glass to win accolades from Institutional Investor, an outstanding recognition for the Group. Despite restrictions on offline activities this year due to the pandemic, the communications between the Group and investors have never been interrupted. As the vaccination rate rises worldwide, we believe we could communicate in person with investors about the Group's recent development in the near future. Going forward, the Group intends to continue using diverse channels to communicate in order to strengthen its relations with investors. With regard to ESG, the Group has stepped up efforts in exploring green finance in recent years, aiming to further expand its financing channels through green financing, while contributing to the creation of green and energy-saving society. The Group has secured a total of HK$5.6 billion of green loans from a number of banks since 2019. In the future, the Group will continue maintaining the highest standards of corporate governance and aligning its sustainable development strategies as it strives for good business results to reward investors for their support."
Institutional Investors is one of the most influential publications for global investment firms. The "2021 All Asia Executive Team Ranking" compiled by the magazine aims to acknowledge companies and business leaders for steadfastly upholding corporate governance principles and fulfilling environmental and social responsibilities while maintaining high transparency in investor relations. It is one of the most authoritative and iconic rankings among the capital market. The winners were selected by polling over 3,500 buy-side and sell-side analysts and fund managers, as well as nearly 600 sell-side researchers, from nearly 1,300 financial services firms.